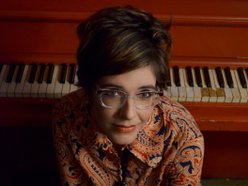 Amy Saari is a lifetime choral musician with a curious variety of singing and conducting credits to her name. She began conducting as a student in her Des Moines North High School Chamber Choir and served as an "emergency" conductor on two choir tours in Grinnell College with the Grinnell Singers. She went on to receive Masters degrees in Choral Conducting and Composition from Bowling Green State University, where she also won the 33rd Annual Competition in Music Performance, composition division, in 1999 for her treble choir piece David, premiered by the BGSU Women's Chorus at the New Music and Art Festival in 2000. As a student member of ACDA, she was selected for a conducting masterclass with Jerry Blackstone of the University of Michigan in 2000.
With her move to southeast Michigan, Amy broke out of academia to set a new course. Her voice, keyboard, and composition skills were shown variously in venues around Detroit: Black Lotus, Scarab Club, DIME, Peace Unity Church, and Jazz Café, among others. She recorded We Are Love, an album of original mystic soul music, and served as a session backup singer for Orthea Barnes's last album, I Was The One. She became the first female conductor of the Motor City Chorale, while also serving as alto section leader of the Rackham Symphony Choir. She started her teaching career while serving as voice coach for "Torch This!" presented by Rouge Makeup and Nail Salon and Via Vintage in 2012 – a night of American songbook standards at Cliff Bells of Detroit sung by amateur singers to a sold-out crowd that raised over $3000 for Urban Neighborhood Initiatives.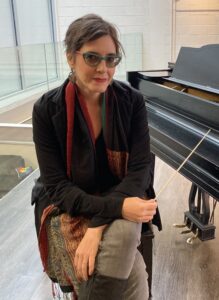 After 2012, Amy was on course to venture further beyond traditional music institutions. She formed an interfaith choir, Spectrum Singers, to perform at the InterFaith Leadership Council World Sabbath in 2014. She adapted her keyboard skills to the harmonium with the Detroit chapter of Sounds of Isha, accompanying them to the rededication of a Hindu temple in Chicago. And while she accepted an appointment as Music Minister of Grace Episcopal Church in Mt. Clemens, she would go on to form the Pagan Pathways Temple Choir, who participated in an interfaith concert celebrating The Four Freedoms at the Henry Ford Museum in 2018. She would also form LadyBones, the cabaret lounge trio of Theatre Bizarre, and go on to perform with them on one of the most exclusive stages at Electric Forest.
Amy continues to explore within and beyond the boundaries of musical tradition, as she has concluded, "Music is my church." She has brought the Grace Episcopal Church Choir to Belle Isle for the Detroit Interfaith Outreach Network annual picnic in 2022 and put LadyBones back on stage after a two-year hiatus. She is proud to bring her leadership back to the community podium with SingOut Detroit and ensure a future for choral singing beyond what's possible.