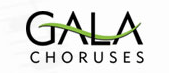 GALA Choruses, the Gay and Lesbian Association of Choruses, Inc., is the world's only association committed to serving the GLBT choral movement. Its 200-plus member choruses and 10,000 singers look to GALA to provide support and helping its choruses to be strong–artistically and professionally.
GALA fosters the artistic and organizational development of member choruses through a wide variety of programs and services. It produces choral festivals, educational conferences and publications, provides grants for the commissioning of new choral works and serves as a resource center for choruses and individual members.
GALA was formed in 1982 by 14 choruses. Today, GALA choruses range in size from five to more than 250 singers and are located throughout North America, Europe and Australia. GALA is a 501(c)(3) not-for-profit corporation with tax-exempt status in the United States.
GALA Choruses, Inc.
P.O. Box 65084
Washington, D.C. 20035
202-467-5830
Fax: 202-467-5831
www.galachoruses.org
info@galachoruses.org
Sing Out Detroit is proud to be a member of GALA Choruses